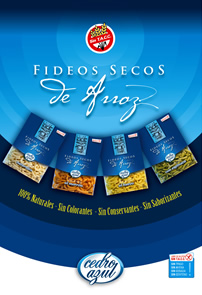 13/01/2012





Relaunch of GLUTEN-FREE noodles Cedro Azul made with rice flour:



Dry noodles 100% natural. They contain: No artificial colorings, preservatives and flavorings.
Suitable for celiacs.
Presentation: in boxes of 500 grams (with additional primary package for double protection).
Varieties: with red pepper, with spinach, with egg and natural (no substances are added to highlight its color and flavor, it only contains the ingredient that identifies it).
Low sodium (no added salt)..